Andy Holland's Virtual Abode
Creative, Fun-Loving, Passionate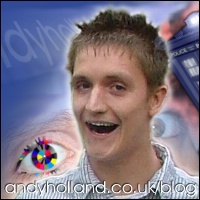 A Message from Yours Truly
"Welcome to andyholland.co.uk. I write this at an odd, yet exciting time of my life: one of life's crossroads. I've left the behind the busy student life and have entered the 'real world': a life packed full of new challenges, a new routine and ever more choices.
Saying a fond farewell to the 'student life' wasn't the tear-filled occasion I had anticipated. Rather, the transition was a quiet celebration of a fantastic four years and a light pat on the back to congratulate the excellent set of results all round.
With regards this website, 2009 has been a rather quiet year. Successful completion of my BA (Hons) degree simply demanded more time than I had previously expected. Prioritisation of assignments, essays and revision resulted in, I freely admit, a huge gap between updates. This was also compounded by the fact that I have recently deserted the Windows platform in favour of the fantastic OSX; since the website was initially developed using Windows-exclusive software, this transition has been slightly problematic. Needless to say, I have now successfully revamped the basic foundations and overcome this obstacle. Updates will now materialise frequently given the ease with which they can be created within this new structure."
Visit soon for new blog updates and special feature articles. Alternatively, visit my Facebook profile, or follow me on Twitter.
"Best wishes to all for a Happy New Year!"

Latest Blog Entries

Latest Tweets

andyholland.co.uk Homepage
Designed, maintained and lovingly crafted by Andy Holland