Andrew "Andy" Holland was born in the North West of England towards the end of the nineteen eighties: the same year as The Simpsons made their first appearance on the Tracey Ullman Show, and the first instalment of the ever-popular Final Fantasy series was released.
Today's the Day
Having completed A-levels in Business Studies, Film Studies, German and Physics, I relocated to the Midlands to read German and Business Studies at the University of Warwick, England. I successfully completed the last year of this four-year degree in July 2009, having returned to Warwick in September 2008 after an eleven-month stay in Kiel and Hamburg: both of which are located in the North of Germany.
Between April and September 2008, I worked as Content Writer, Translator & Online Marketing Assistant for an international web development and e-business consulting company, whose primary base is in Hamburg's beautiful city centre. It is not an exaggeration to say that I fell in love with Germany during my short eleven-month residence. I look forward to many a visit, or another extended stay, in the not-to-distant future.
Made in the 80s
I spent my early youth like many of my counterparts in the nineties: whiling away the summer months riding my bicycle, roller-skating with friends and playing electronic games, such as Crash Bandicoot, on the PlayStation One.
Music
At the age of eight, I decided I wanted to learn how to play the keyboard. For the next ten years I worked my way up to Grade 8 Piano, which I finally achieved with Merit in November 2005. Since then, I've enjoyed performing for friends and family, composing and taking the opportunity to relax by practising new pieces in the comfort of my home or with like-minded friends.
Music in general is a great passion of mine, which I try to assimilate into every aspect of my waking (and indeed sleeping) life. I enjoy almost every genre of music, so to list favourite here would be rather fruitless. My passion for music has invigorated my desire to produce my own musical work of art, in the form of my work-in-progress classical, solo piano album, Sphere.
For more information about my passion for music, see both the blog and the special feature articles sections.
Film, TV and Videography
In the middle of the nineties, I was introduced to the world of television, when I starred as a shepard alongside a group of primary school friends on Richard Madeley and Judy Finnigan's UK daytime television programme This Morning. From this moment, I was mesmerised by television, film, theatre and videography. Throughout my school days I spent my winters (and summers) performing in numerous plays and stage shows with a fantastic group of friends. Towards the end of my school life, I filmed and edited several musicals, short films and various other videos that helped to enhance the school's image and celebrated the journey that my friends and I had taken over the previous seven years. More recently, I've filmed, edited and produced four, professional-standard wedding DVDs for four happy couples across Europe. And, in March 2009, I featured alongside three university friends in BBC Three's 'Natalie Cassidy's Real Britain'.
Favourite TV Shows
My love of television and film culminates in a vast collection of programmes that I could consider 'favourites'. These include: 24, American Dad!, Ashes to Ashes, Big Brother, Bones, Coronation Street, Crime Traveller, Desperate Housewives, Doctor Who, Family Guy, Friends, Futurama, Have I Got News For You, Heroes, House M.D., Invasion, Life on Mars, Lost, Merlin, Only Fools & Horses, Planet Earth, Primeval, Prison Break, Queer as Folk, Question Time, Red Dwarf, Sarah Jane Adventures, Sex and the City, Secret Diary of a Call Girl, Sex... with Mum and Dad, Die Simpsons, Skins, Spooks, The Brittas Empire, The OC, Torchwood, Two Pints of Lager and a Packet of Crisps, Verliebt in eine Hexe, Vincent.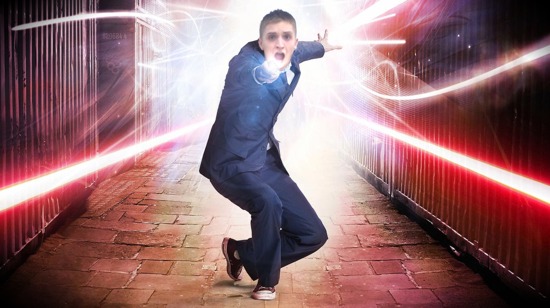 Favourite Literature
Although the pace of modern life negates the frequency of literary consumption that I desire, I do love a good read! Naturally, I adore Ms. Joanne K. Rowling's Harry Potter series. So much so in fact, that I'm currently wading through the German translations. I've had the privilege to study many a brilliant author's works, and occasionally dip into something a little more academic, including Professor Hawking's A Brief History of Time. I find it heartbreaking that the book is slowly becoming less popular with the youth of today: as a relaxation device, I find a good read is one of the best on offer.
"A house without books is like a room without windows" - Heinrich Mann
Duke of Edinburgh
In 2001, I was presented with the opportunity of embarking on a special journey: the Duke of Edinburgh's Award. This is a UK-based award programme that helps youngsters to build their team-working skills, try out new sports and hobbies, and help their local communities. I completed the award between 2001 and 2005, working towards the three standards: bronze, silver and gold. The Gold Award takes at least eighteen months to complete and, in my case, involved volunteering for Baron Feversham at his Duncombe Park estate in North Yorkshire, England. I also took up dragon boating at Liverpool's King's Dock, where my physical abilities and team-working skills were truly put to the test. Although I only took part in dragon boating for little over a year, I was given the opportunity of training with the Great British team, and in 2004, I became an under 18s UK champion. In November 2006 I was royally presented with the Gold Award by HRH Prince Philip. The picture at the top of this page was taken outside the Palace of Holyroodhouse, official Scottish residence of Queen Elizabeth II.
The Future
There are numerous 'famous' quotes to which I sometimes refer to help describe my prevailing direction in life. The following is just one of these:
"Stop acting as if life is a rehearsal. Live this day as if it were your last.
The past is over and gone. The future is not guaranteed." - Wayne Dyer
Contact Me
For more information, or if you would like to contact me directly, please visit my blog, leave a message on this site's guestbook, follow me on Twitter, or refer to my online contact details. Alternatively, see my Facebook Profile.