Archive: May 2008

"Culture is..."
Tuesday, 27st May 2008, 21:42 GMT
...the widening of the mind and the spirit. The cultural offers in Hamburg have once again succeeded in bringing a smile to my face. This time from the wonder that was the Hafengeburtstag.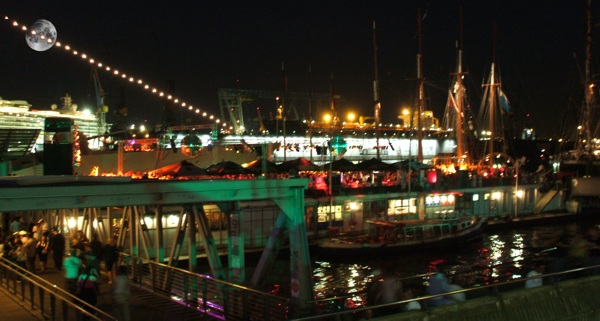 Hamburg Harbour's Outdoor Discotheque - 11th May 2008 - ©2008 andyholland.co.uk
Hamburg harbour's birthday celebrations form the biggest harbour festival in the world. Fireworks, stunt planes and general merriment were intrinsic to the weekend's superb atmosphere. The moon hung brightly in the air, the warm, dry and pleasant weather lengthening the short nights as revellers filled the streets; willing to party throughout the night. The main thoroughfare was filled with the usual carnival treasures: sweets (inc. Haribo), fish butties, beer tents etc.
Hamburg's Hafengeburtstag Celebrations - ©2008 andyholland.co.uk
The myriad of ships/boats in the harbour is, at most times, impressive. But this particular weekend, the fleets were out in force. The one picture above illustrates just one of the boats to build this festival into the huge weekend it was.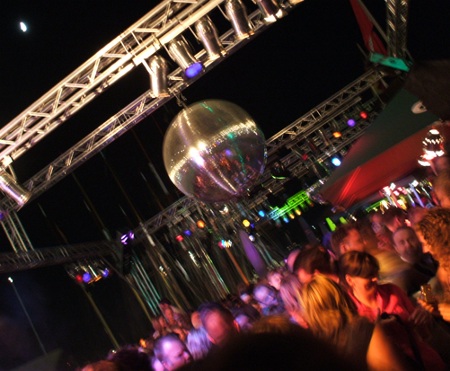 Dancing in the Moonlight - ©2008 andyholland.co.uk
Although the cultural offerings were out in force, I have to say the prospect of an outside Discotheque was the most exciting attraction for me. There is something quite magical about strutting your stuff under the moonlight with another few hundred party-goers. In fact this particular pop-fest was located on one of Hamburg's many piers; so not only were we dancing in the moonlight, but we also had crisp blue water shimmering beneath us.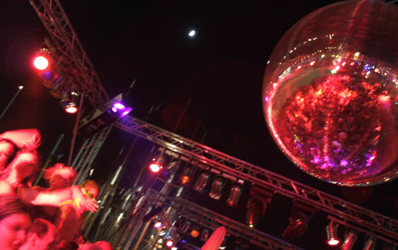 And The Beat Goes On...
As May comes to a close, I cannot help but wonder at the speed at which this year is passing by. How I have got through nearly six months without visiting England is rather bemusing. Nevertheless, it's been an amazing start to the year; I would go so far as saying I've had a blast.
Come September I will be back to the gruesome task of completing my degree, spending hours in the library researching German literature and hopefully reacquainting myself with campus life. Although initially a scary thought (getting back into routine), I can't say I won't enjoy it!
Germany has been a fantastic learning curve, and although I'm still enjoying every last drop of time that runs by, I am looking forward to getting back in touch with family and friends in Europe's north-westerly Island, my home in England.
"Time is more valuable than money, you can get more money, but you can not get more time". - Jim Rohn
Comment on this Entry | Comments (0)

"Working 9 to 5 8 to 6"
Sunday, 4th May 2008, 20:48 GMT
After just two short months, I've nicely settled into a routine. Every weekday, I wake at 7am, arrive at the office at 8am, leave it for lunch at 1pm, come back 45 minutes later, finally rounding the day off at 6pm.
It's a 10 hour working day, it's a real office job and it's one that I can easily leave behind come 6pm. I arrive home every evening, cook a nice 'Mischung', or 'mixture', of rice, pasta, chicken, beef or some other concoction and have a pleasant, relaxing evening in front of the TV or sat in bed with a cup of tea and my book. It's actually a very tranquil routine and surprisingly one that I could quickly get used to.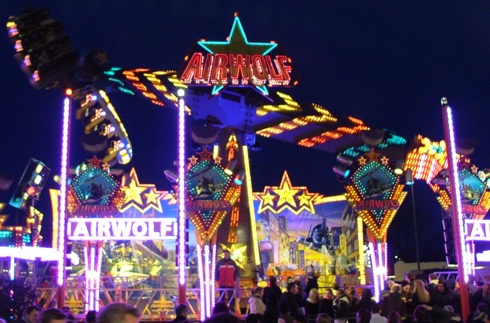 Airwolf - Just one of the crazy rides at the famous Hamburger Dom - 13th April 2008 - ©2008 andyholland.co.uk
Freizeit
Despite the long working days I feel I now have far more free time to enjoy the beautiful scenery and cultural offerings around me. As a "former" student, I was well accustomed to the pressure that comes with time-management. Without a 5000 word assignment hanging over my head I feel rather liberated to explore Hamburg and enjoy my year abroad in a way that I don't think was quite possible whilst studying at university. Admittedly, I did not study too hard in Kiel, but even so, any outstanding homework was always in the back of my mind. Partaking in an internship has left my evenings and weekends free for me-time.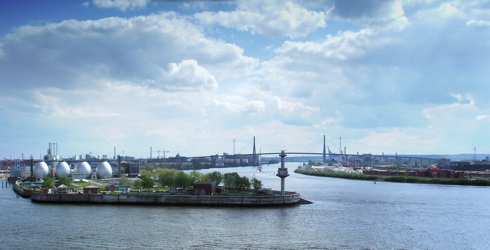 Hamburg Hafen - 1st May 2008 - ©2008 andyholland.co.uk
'Me-time' includes days at the park, beach, harbour or fair; on a ferry on the Elbe; rollerblading on the Rollschuhbahn or simply taking a stroll down the infamous Reeperbahn. In contrast to the weather that we Hamburgers had to endure during March, where temperatures plummeted to -7°c, April and May's weather has been superb. Temperatures are ideal and the sun frequently wears his hat. The harbour (with its 'fascinating' container terminals) actually looks rather pleasant; the public parks and gardens are blooming; the beaches are becoming populated and the Fischmarkt now opens at 5am!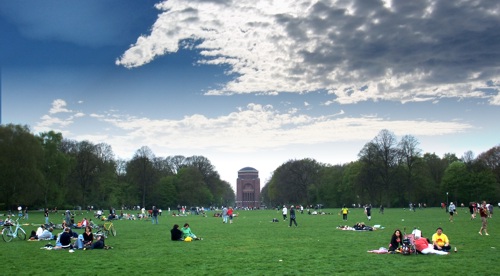 The Planetarium building in Hamburg's Stadtpark - 27th April 2008 - ©2008 andyholland.co.uk
Summer Has Returned
Hopefully, without jinxing it for everyone and causing a repeat of last year's washout summer, I can announce that the summer begins here. Spending weekends how I like, not worrying about university work, relaxing on the beach or in the park with a BBQ is how I intend to spend the remaining four months in Hamburg. Without a holiday booked this year, I'm going to make the most of the opportunities I have here.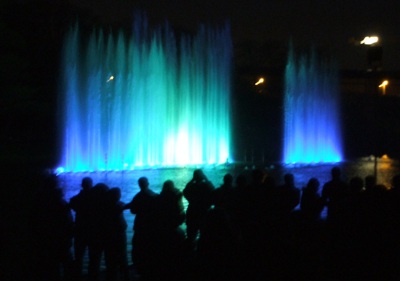 A free fountain, light and music concert in
Planten und Blomen - 1st May 2008 - ©2008 andyholland.co.uk
One of the good things about living in a city is the diverse cultural events on offer. The above pictured fountain, light and music 'concert', which takes place every evening in Hamburg's city-centre park, Planten und Blomen, was, although completely free, a delight. The beautiful coordination of the fountain mist as it was illuminated in the most wonderful variety of colours was a perfect ending to what had been a fantastic may bank holiday. The timing and precision of such shows I admire; they add that extra element to the music that is often, otherwise, unobtainable.
Hamburg's Fischmarkt
So... after living here for a couple of months, I finally made it to the famous Fischmarkt which begins at 5am in the morning. At this hour on a Sunday, nobody is awake, unless they have been on an all-night jolly down the Reeperbahn. I was no exception. A fish buttie was just what was needed at 5:30am last Sunday morning, after a little too much Weizenbier. Nevertheless, I must say I was disappointed at the variety of products on offer; it was not just fish! (How dare they?!) Despite my salmon fish buttie being very delicious indeed, I wasn't prepared to buy jeans, nor a pet chicken!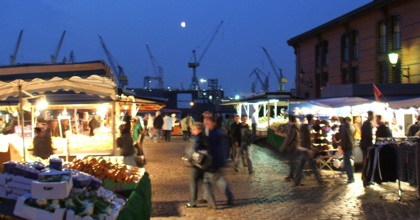 Hamburg's famous Fischmarkt - 27th April 2008 - ©2008 andyholland.co.uk
Nonetheless, it is well worth a visit, especially in the wee-hours. It's rather beautiful by the sea and there are some bargains to be had. Pity about the lack of fish...
Hamburg's Beaches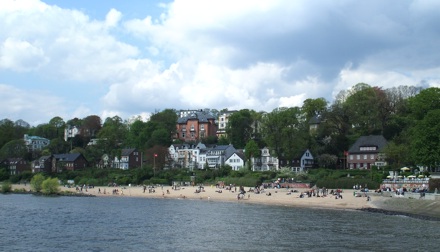 The beach at Neumühlen, Hamburg - 1st May 2008 - ©2008 andyholland.co.uk
Germany is not exactly famous as a holiday destination, unless of course it is the bachelor's final fling of freedom on his stag night, or a drunken weekend in München's Hofbräuhaus. Nevertheless, Hamburg has a nice array of beaches along the river Elbe, which runs straight into the heart of the city. A couple of days have been spent whiling away the hours with a couple of lime beers and (one of these days) a nice BBQ in the sun and on the sand of these wonderful hideaways. Here I was thinking that Hamburg was going to be all office-work and article writing(!)
Without sounding too much like I'm a journalist for the Hamburg tourist board, I genuinely have fell in love with the city. The efficiency of the transport, the culture of music, theatre, opera, interesting scenery around me and indisputably lovely places to sit and have lunch are amazing - I think I'm going to enjoy every last minute in Hamburg. I may as well have a holiday this year, as next year will be the tough one - the final year of my degree!
"Typos are very important to all written form. It gives the reader something to look for so they aren't distracted by the total lack of content in your writing". - Randy K. Milholland
Comment on this Entry | Comments (0)