Archive: June 2008

"Seventy Four Miles per Hour"
Wednesday, 25th June 2008, 16:58 GMT
It was a bright, beautiful May weekend. Hamburg shone with a dazzling blue sky as morning broke. As I left my room, with a small backpack full of goodies for the trip, the sun immediately roasted my skin; its rays racing through a cloudless sky toward me. The clock was ticking. The coach to Heide Park was leaving in less than 15 minutes, and I had only just left the building. As I sprinted towards the U-Bahn station, my legs barely keeping pace as they trembled beneath me, my mobile began screeching the familiar sound of the TARDIS, as it vibrated around my jeans pocket. I clumsily reached in to grab it, whipping it out as quickly as possible and holding it solidly to my ear. The voice at the other end was shaking with breathlessness, as the body it was attached to ran through the central station, just 10 minutes away from my location.
She was adamant that the bus would leave without us, but luckily for us, our respective U-Bahns served their purpose and transferred us reliably to our destination; the Heide Park coach. We climbed into our seats as Hamburg slowly faded away into the distance behind us.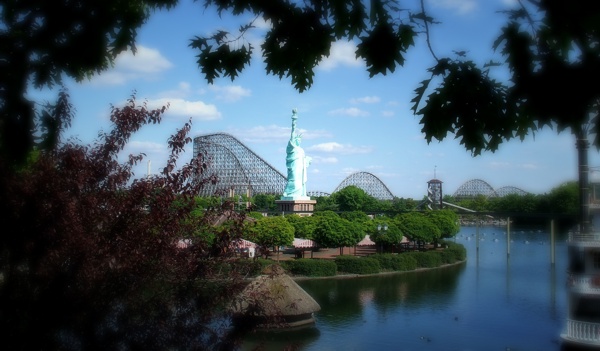 The Stunning Entrance to Heide Park - May 2008 - ©2008 andyholland.co.uk
Almost as soon as you enter Heide Park, a huge replica of the Statue of Liberty is brought into view. The giant lake at the heart of the theme park sets the peaceful tone delightfully, and quite subtly hides the hideously intense rides behind the thick ring of trees surrounding it. The huge wooden frame of Collosos towers in the distance above the horizon. As we approached, it appeared to grow in size; ever threatening - ever more intense!
The waiting in line is always the worst. What was in reality just ten minutes, seemed like days passing by as the train whizzed continuously around us. The distance between us and the starting position shortened. The end was nigh.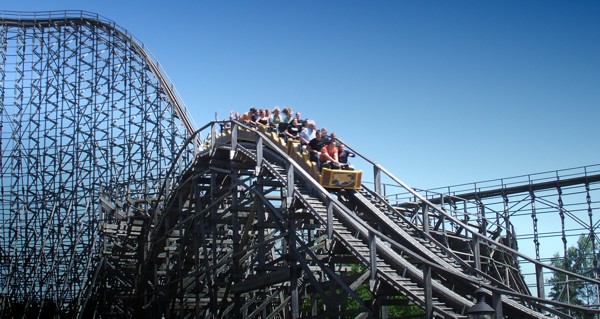 Colossos Hurtles Along at an Impressive 74mph - May 2008 - ©2008 andyholland.co.uk
The restraint fell clumsily onto my lap as the final preparations were completed. I glanced for the final time toward my companions as the train leisurely moved towards the chain-lift. The carriage jerked to a stop as the chain took effect and the whole train began its 197ft ascent. The clunking sound of the chain persistently bounced along my ear canal as we approached the top of the track, and ultimately, the edge of an unthinkable drop.
The adrenaline raced throughout my body as we edged ever closer to the precipice. My hellish scream barely left my mouth as we zoomed towards the ground at 74 mph and an angle of 61°. The feeling was simply awesome. The train pounded towards the ground before suddenly being whipped forwards and skywards again. It soared over a peak, then downward before beginning another decent. The stomach tickling away, my screams eventually left my mouth as the ride slowed.
Admittedly, it has been a while since I've been to a theme park, but Heide Park's small collection of rides shone. Even though it is the biggest theme park in Northern Germany, I found it quite quaint and not as jam-packed as English theme parks. The queues were nice and short and the rides were even more fun as a result. There are a two more roller coasters that deserve a mention: Dessert Race is a launched roller coaster, similar to Rita: Queen of Speed at Alton Towers; and Big Loop, which is a multiple looping coaster, with speeds of up to 63 km/h.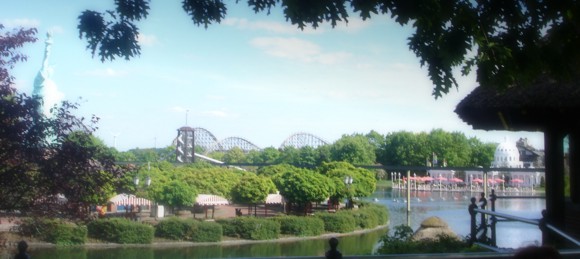 The Beauty of Northern Germany - Heide Park - May 2008 - ©2008 andyholland.co.uk
Overall, the mix of intense, and simple 'fun' attractions made a particular weekend in May one to remember, not least as I got to see two special friends once again...
"There are no speed limits on the road to excellence". - Anonymous
Comment on this Entry | Comments (0)

"Totally Stereo"
Saturday, 14th June 2008, 14:54 GMT
"Ich bin Nackt" is not something you hear sung melodically on the Hamburg club scene. To hear those three little words, you must hunt out very specific places on the infamous Reepberbahn – or so I thought. May 2008 changed my erroneous assumption.
Stereo Total is a German-French duo based in Berlin. Their songs are described as a humorous mix of Synth, New Wave, Electronica, Punk and Pop. You will have heard their "I love you, Ono" track on the Sony Handycam® television advertisements back in 2005. The French woman calls herself Françoise Cactus and the German guy calls himself Brezel Göring.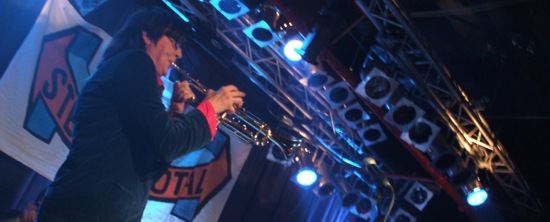 Françoise Cactus in Hamburg's Übel und Gefährlich - 23 May 2008 - ©2008 andyholland.co.uk
The sun had just set over Hamburg as I climbed the steps out onto Feldstraße from the U-Bahn station. The mysterious, giant, concrete structure that is the Übel und Gefährlich nightclub, towered above me, as I walked towards its ominous entrance. There were a myriad of people waiting patiently in a queue that was forming outside of the lift that would take us to the top of the building. Some stereotypical punk-rockers were spotted here and there, whilst the majority of revellers were actually younger than me. This, made me feel old.
Once inside the club, which requires negotiating an ink stamp to the hand in exchange for a small cash sum, we were presented with what can only be described as a dark, dingy, smoke filled pit of a room. The atmosphere however, was perfect. Initially, I was not convinced by one of my friend's assurances that Stereo Total was going to be great. However, after just two seconds of Cactus and Göring being on the stage, I was hooked.
They played a mixture of tunes. Admittedly, many were covers of songs from Serge Gainsbourg, The Rolling Stones and KC and the Sunshine Band, but my favourite thing about them has to be their multilingual tracks. Not only do they sing in French, German and English, but sometimes in Spanish, Japanese and even Turkish!
They are a very quirky duo. I would imagine that it is certainly a case of: you either like them or you hate them. Their electronic, low-fidelity style is unique.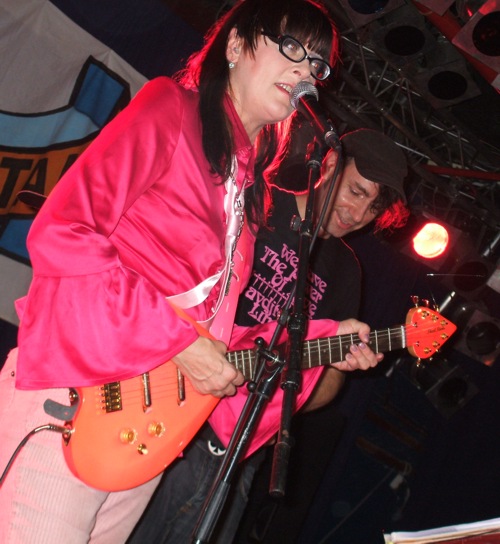 Stereo Total wow the crowd in Hamburg's Übel und Gefährlich - 23 May 2008 - ©2008 andyholland.co.uk
Göring has the energy of a child after too many blue Smarties®, and Cactus simply exudes enthusiasm, whether she is singing, playing her heart-shaped pink guitar, or blowing her hardest on her trombone, cornet or trumpet. The culmination of one of the tracks, which my inferior brain has failed to recall as I write this, saw Göring leaping spectacularly onto the crowd, who carried him in blissful, alcoholic ignorance across the dance-floor and back onto the stage.

Brezel Göring crowd surfing in Hamburg's Übel und Gefährlich - 23 May 2008 - ©2008 andyholland.co.uk
Just like their music, the atmosphere in Übel und Gefärhlich was electric. Their encore welcomed the crowd onto the stage for a breathtaking finale of dance, music, lights and furore. It was simply amazing!
As the night wore on, I became increasingly tired and headed wearily down the spiral staircase in the direction of the U-Bahn, my street, my room and finally, my bed. I fell asleep quickly that night, with dreams of music swirling around my head.
Anybody who is interested in the quirky music scene will love Stereo Total. Indeed, they deserve far more attention than they get. Perhaps this is for the best; many bands that make it big are eventually flattened by the strain of super-stardom. Perhaps Stereo Total will live out its days as a quirky, humorous and music-loving duo – just as Françoise and Brezel originally planned.
"Music is the harmonious voice of creation; an echo of the invisible world". - Giuseppe Mazzini
Comment on this Entry | Comments (0)