Archive: October 2008

"Journey's End"
Saturday, 4th October 2008, 18:40 GMT
As I prepare to step up to the challenge of my final year at university, I reflect, one last time, on possibly the biggest year of my life: the year gone by.
Without recapping too much of the year in detail - primarily because quite a lot of it is already sewn into the pages of this blog already – I'd just like to complete the concluding account of my year abroad with a meander through the final six months in Germany and the Erasmus experience, that has changed my opinions; given me greater tolerance for the new, strange and odd; and helped me grow as a human being.
Living in Hamburg for six months gave me a new perspective on life after university. Working eight till six most weekdays gives you a real appreciation for the weekends, which are essentially free to spend as you wish. While studying, although you may not be sat in lectures and seminars throughout the whole day, there is certainly work to be done: work that hovers around until it is finally completed – usually on a Sunday evening shortly before it's due.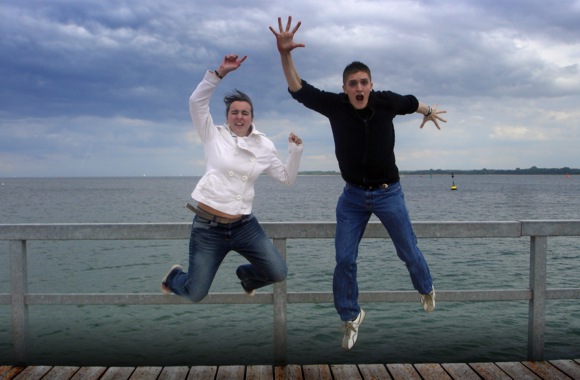 Anne Legrand and Andy Holland in Lübeck, Germany - ©2008 andyholland.co.uk
Given that the weekends are free to spend as you wish, it makes sense to seek out new opportunities to enjoy life. Hamburg offers a whole wealth of these; its collection of beautiful parks, its upcoming Hafencity and the ever-increasing number of cultural events around the Binnenalster and Heiligengeistfeld are just a few examples of the places to enjoy your weekends. This is of course forgetting Hamburg's beaches, where I spent a number of glorious sunny Sunday afternoons.
Living in a big city is such a contrast to town-life, and indeed life on a campus university, where I'm currently residing. Although each offer their own quirky benefits, living in the city certainly can be very enjoyable - especially for young people who are looking for a new experience. Living in a large city in a foreign country can be even better. It has made me realise that I could realistically live anywhere in the world: away from family and friends, yet still having the time of my life. In fact, this year has given me the confidence to look for opportunity to enjoy life anywhere in the world. It's exciting to think that it may be less than twelve months before I move away and begin my life in the 'real world'. Let's see what the year brings!
"And in the end, it's not the years in your life that count. It's the life in your years." - Abraham Lincoln
Comment on this Entry | Comments (0)